Library Exhibit: Disrupting (White Space): Counter Stories of (Black) Joy and Resilience at Skidmore College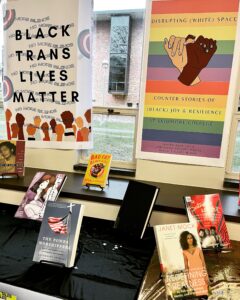 Academia, as reflected in libraries, has often been a place of contention for Black women and Black women's intellectual work. In the context of a predominantly white institution (PWI) and a liberal arts college, along with the current state of book banning and African American history, the history of Black women and academia, and the state of the nation politically and socially, this exhibit serves these purposes: 1) Center Black women and Black women's intellectual work in this long-contested space; 2) Shed light on the experiences and lives of Black folk, especially Black trans women; and 3) Elucidate the state of the nation and why there is such a barrage of anti-trans legislation. Guided by the principles of the National Museum of African American History and Culture, this exhibition serves to again disrupt a piece of Skidmore's geography.
The exhibit was curated by Raven Jade Villa '23. It will be on display behind the Research Help Desk through May 2023.