Library Art Installation: Conversations with My Deepfake Dad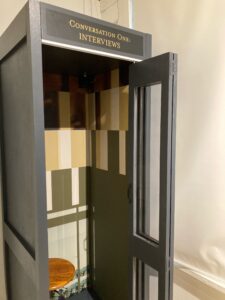 "Conversations with My Deepfake Dad" is new art installation on the 1st floor created by Skidmore professor Sarah Sweeney. As soon as the listening booth door closes behind you, the conversation begins to play.
Conversations with My Deepfake Dad, 2023
Conversation One: Interviews
26 minutes and 30 seconds
https://www.mydeepfakedad.com/
My father died when he was forty-four and I was seventeen. When I turned forty-four I wanted to talk to him again. I contacted Resemble AI, a company that creates clones of voices using machine learning, and we worked together to create an AI model of my father's voice. This project is a series of six conversations created through my interactions with the audio deepfake of my father. His responses are based on different sources of information–producing a kaleidoscope of different dads.
Deepfake Software: Resemble Ai / Saqib Muhammad
Script Editor: Kate Sweeney
Interviewees: Kate Sweeney, Ann Sweeney, Debbie Sweeney Wick
Electronics: Evan Halstead (Skidmore Physics Department), Jeff Briton (Skidmore Physics Department), Omar Gomez '23, Zoë Bilodeau '23, David O'Connell '23
Carpentry: Paul Davis (Skidmore Art Department)
Printing: Andrea Casey (Skidmore Art Department)
Technical Director/Projections (CultureHub): DeAndra Anthony
Sound Editing (CultureHub): May You
Vocal Recordings for Deepfake Dad (CultureHub): Billy Clark
Creative Producing (CultureHub): Mattie Barber-Bockelman